Traditions, Change, and Celebration: Native Artists of the Southeast August 8, 2014 – July 25, 2015
Columbia, SC – The University of South Carolina's McKissick Museum will present Traditions, Change, and Celebration: Native Artists of the Southeast from August 8, 2014 – July 25, 2015, in the Museum's 2nd floor South Gallery. The exhibit will open with the 2nd Annual FOLKFabulous festival on August 23, 2014, from 10:00 a.m. – 4:00 p.m. in front of the Museum on USC's historic horseshoe.
This exhibition represents year two of McKissick's Diverse Voices series, which explores the vibrant traditions that help create and maintain the cultural landscape of South Carolina and the surrounding region. Each year the exhibit focuses on a specific theme or tradition.
The South is home to a wide variety of deeply-rooted Native American tribal groups, each with their own dynamic history. Traditions, Change, and Celebration: Native Artists of the Southeast, pays particular attention to five primary culture groups: Iroquoian, Muskogean, Algonquin, Mobilian and Siouan. Within these culture groups and spanning nine states, the traditions of over twenty five will be explored, including the Cherokee, Edisto, Choctaw, Catawba, Chickasaw, Seminole, Chitimacha, Pamunkey, Wassamasaw and Creek. Featuring the work of master artists within these communities, the exhibition explores how these artists are influenced by the world around them and how they influence their native communities in leadership and through cultural evolution. The exhibition will focus on Native Americans who continue the traditions of their ancestors in a contemporary context, how the creative process is informed by traditional methods, and how artists have incorporated innovative changes in technique and style. Artists represented in this exhibition have prioritized the work of researching, reinventing and reaffirming complex and ever evolving community identities as part of their individual self-expression.
Guest curated by Dr. Will Moreau Goins, CEO of Eastern Cherokee, Southern Iroquois and United Tribes of SC (ECSIUT)., Traditions, Change, and Celebration features more than 75 objects representing Native artists throughout the southeast. Works include pottery, baskets, wood- and stone-carvings, textiles, regalia, and beadwork music traditions and storytelling expressions. This exhibition draws from Mckissick Museum's own permanent collections as well as several significant lenders, including the North Carolina Museum of History; the Chitimacha Museum & Chitimacha Tribe of Louisiana; Poarch Creek Indian Cultural Museum of Alabama and The Calvin McGhee Cultural Authority (CMCA); the Mississippi Band of Choctaw Indians Museum; Alabama-Coushatta Indian Museum of Texas, Chickasaw Cultural Center & Chickasaw Nation TV; Miss Indian World-Gathering of Nations; HistoryMiami Museum; Eastern Cherokee, Southern Iroquois & United Tribes of South Carolina, S C Native Traditional Arts Project, Nottaway Indian Tribe of Virginia Museum, USC-Lancaster Tom Blumer Collection; Pamunkey Indians of Virginia and several private collectors.
"This exhibition is about celebrating the creativity and diversity within the Native American community," says curator Saddler Taylor, "and my hope is visitors will leave with a clear understanding of how culture groups from a wide variety of backgrounds influence and strengthen each other." Dr. Will Moreau Goins, Guest Curator, stated, "As artists we celebrate our tribal culture, the family, our heritage, our ancient symbology, the earth, spirituality and the ancient ones, with works of art that brings celebration and joy. The world today is still 'Native" in the southeast and we have vibrant new leaders with artistic roots in Native communities." Artistic expression is necessary for spiritual replenishment, revival, renewal and rebirth within our tribal communities and cultures."
Traditions, Change, and Celebration: Native Artists of the Southeast, will showcase a commissioned art work of renowned artist, Roger Amerman. Roger Amerman (Choctaw), has created a fully beaded Choctaw Frontier Coat that took four years to complete (see attached images). This exhibit will also feature a replica of a Seminole "Chickee" to frame visitors' experience of Seminole history and culture. The pottery of Joanna Underwood of the Chickasaw Nation; a stone carving & gourd Carving by the 2014 North Carolina Folk Heritage Awardee, Arnold Richardson (Haliwa-Saponi); the Shell carvings of Antonio Grant (Cherokee/Navajo); the Pottery of Kevin Brown (Pamunkey); the Chitimacha Basketry by John Paul Darden, among many other Master Artists from southeastern native communities..
Complementing the exhibit will be FOLKFabulous, an outdoor festival where Native American musicians, artists, and community leaders from more than five different Southeastern tribes will share their cultural traditions. Participating artists include Keith Brown demonstrating Catawba pottery, Tuscarora music by the Deer Clan Singers, and Cherokee storyteller and stonecarver Freeman Owle. FOLKFabulous is an interactive event for the entire family.
McKissick Museum is located on the University of South Carolina's historic Horseshoe with available parking in the garage at the corner of Pendleton and Bull streets. All exhibits are free and open to the public.
Museum hours are 8:30 a.m. – 5 p.m. Monday thru Friday and 11 a.m. – 3 p.m. Saturdays. The museum is closed Sundays and holidays.
For more information, visit http://artsandsciences.sc.edu/mckissickmuseum or call Ja-Nae Epps at 803-777-2876. This program is funded in part through the support of the South Carolina Arts Commission and the Humanities CouncilSC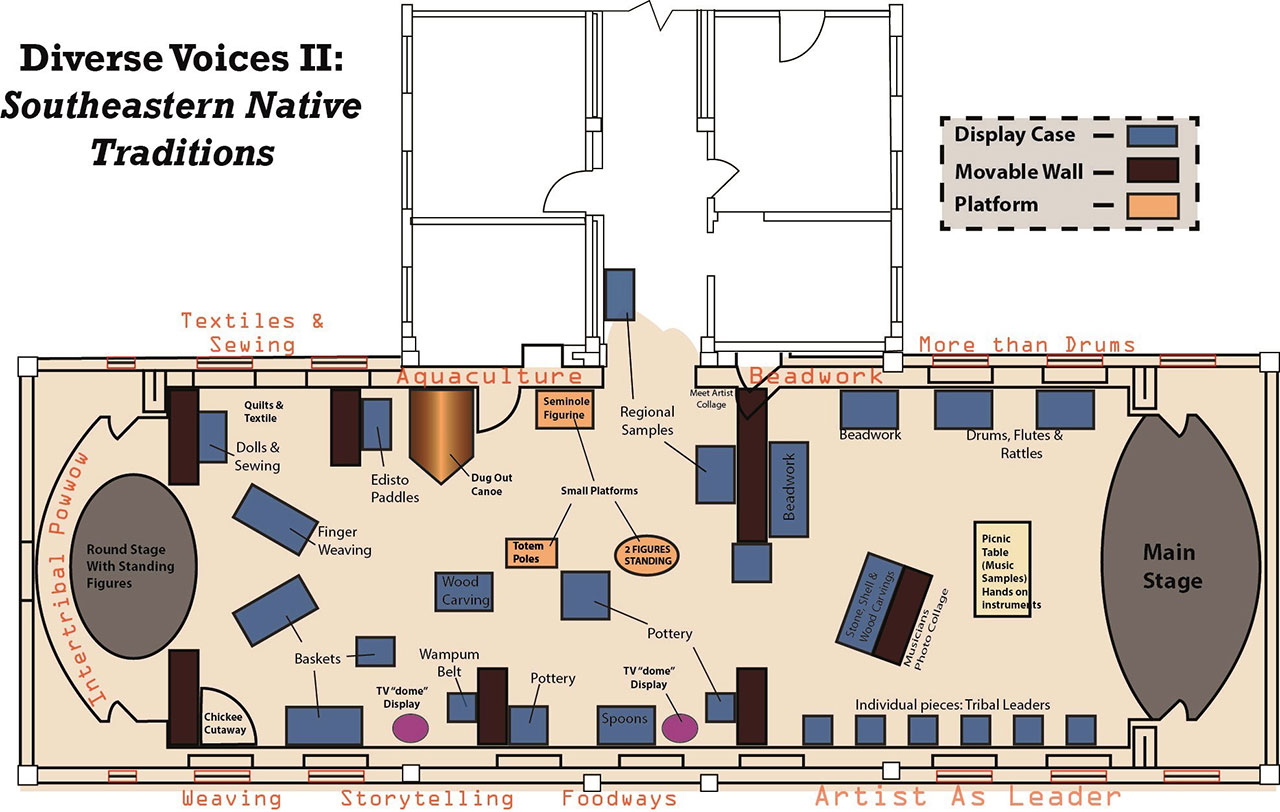 Other Links
University of South Carolina Event Page