Cherokee Nation Ambassadors 2012-2013
Cherokee Nation crowned Julie Thornton (center) of Muskogee as the 2012-2013 Jr. Miss Cherokee at Saturday night's competition. First runner-up was awarded to Cierra Fields (right) of Ft. Gibson and Megan Baker (left) of Locust Grove took home second runner-up. Cherokee Nation Crowns 2012-2013 Jr. Miss Cherokee.
TAHLEQUAH, Okla. — Julie Thornton of Muskogee reigned supreme at Cherokee Nation's latest ambassador competition taking home the 2012-2013 Jr. Miss Cherokee title. For the next year Thornton will act as a goodwill ambassador for the tribe promoting the government, language, history and traditions of the Cherokee people.
Thornton, 17, is the daughter of Bryant and Shelly Thornton. She is a senior at Hilldale High School in Muskogee. Thornton won over the judges with her knowledge of Cherokee language and history and impressed the audience with a cultural presentation over traditional Cherokee basketry. She will assume the duties held by the 2011-2012 Jr. Miss Cherokee, Christy Kingfisher.
During her reign as Jr. Miss Cherokee, Thornton said she is going to focus on helping more people achieve higher education.
"Higher education is what will create a better foundation for [Cherokees] in the future," Thornton said during her platform presentation. "Cherokee Nation has boundless opportunities for higher education and as Jr. Miss I will do my best to inform everyone, young and old, of the vast opportunities available to them as Native Americans."
Cierra Fields, 13, of Fort Gibson was named first runner-up. Fields is an eighth-grade student at Ft. Gibson Middle School and the daughter of Richard and Terri Fields. Fields also received the cultural presentation award and the traditional dress award.
Second runner-up went to Megan Baker, 15, of Locust Grove. Baker is a sophomore at Locust Grove High School and the daughter of Jeremy and Gina Baker. Baker won the essay and academic awards as well.
Also participating in the competition were contestants Deonna Toney, 15, of Sallisaw and Sage Butler, 15, of Jay. Butler was awarded Miss Congeniality. The Jr. Miss Cherokee Ambassador competition was held in conjunction with the 60th Cherokee National Holiday.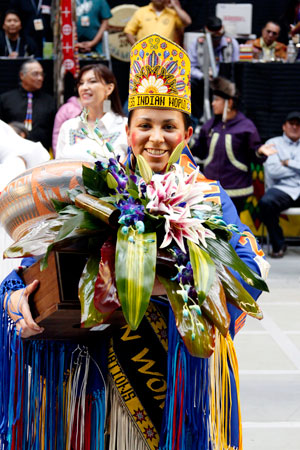 2012-2013 MISS INDIAN WORLD
Jessa Rae Growing Thunder (Fort Peck Assiniboine/Sioux)
Jessa Rae Growing Thunder, 22 years old, comes from the Fort Peck Assiniboine/ Sioux tribes of Poplar, Montana. She is currently a student at Fort Lewis College in Durango, Colorado where she is studying Native American and Indigenous Studies.
Jessa Rae is a third generational artist who has spent her life learning the values and importance of her cultural traditions from her grandmother, Joyce Growing Thunder and her mother, Juanita Growing Thunder.
Jessa Rae has obtained numerous awards with her traditional artwork as well as the honor of other opportunities such as an internship at the Smithsonian's National Museum of the American Indian and a training program in conservation at the University of Delaware.
She has also had the honor of recently being inducted into the National Society of Leadership and Success, where her leadership skills were strengthened to match her dreams of success. Jessa Rae plans to merge her traditional knowledge with her academic background to further work in the field of cultural preservation.

Miss Indian USA Winners
Outstanding Young Indian Women come to the Nation's Capital each year to participate in the National Miss Indian USA Scholarship Program, sponsored by the American Indian Heritage Foundation.
Over the years hundreds of beautiful and talented American Indian women have ventured to Washington DC to become a contestant and compete for the title of Miss Indian USA. Every year the winner recieved a scholarship and the title, she was encouraged to be a rollmodel in her home town and throughout Indian Country as she travelled.
A diverse panel of distinguished and qualified American Indian leaders, led by head judge, Ron Andrade, share the awesome responsibility of judging these beautiful, knowledgeable and charismatic women, as they share their traditional and contemporary values of today's American Indian Woman.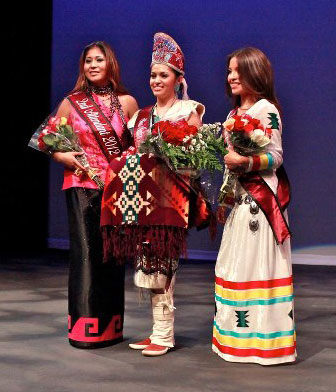 Miss Native American, USA
Brenalee Sakiestewa (Gila River Indian Community-Pima, Navajo, Hopi) 2nd Attendant 2012-2013
Shaylin Shabi (Navajo) Miss Native American USA 2012-2013
Sage Honga (Hualapai/Navajo) 1st Attendant 2012-2013
Photo Credit: mid-awe.com